Los Piños Mountain December 2014 Trip Report
© December 2014 Adam Helman

Note: All coordinates are in the WGS84 datum.
Introduction
Last month I climbed Corte Madera Mountain with Max Muir, a friend from work long ago. While there nearby Los Piños Mountain loomed large just south across the intervening saddle. I return there now, after climbing it many years ago, for the aerobic exercise with a large daypack - surely far more enjoyable, albeit with considerably more overhead, than my standard home treadmill.
Drive
It was a bit risky driving at 6 a.m. after imbibing a half glass of red wine at 2:50 to aid sleep. I assume the risk because life is simply full of it - and the challenge is overcoming them while not getting into trouble (or worse). From this junction at (32.71660° N, 116.50016° W) one follows Corral Canyon Road northwest 4.7 miles to the trailhead. The first 1.5 miles is horribly potholed and washboarded, whence the balance of 3.2 miles is smooth sailing. (For completeness, said junction is 3 miles south along Buckman Springs Road from Exit-51 of Interstate-8). I arrive at my trailhead (32.73559° N, 116.55734° W) around 7:30. However I lack a certain Forest Adventure Pass for legally parking here. This is the same trailhead for accessing Corte Madera Mountain.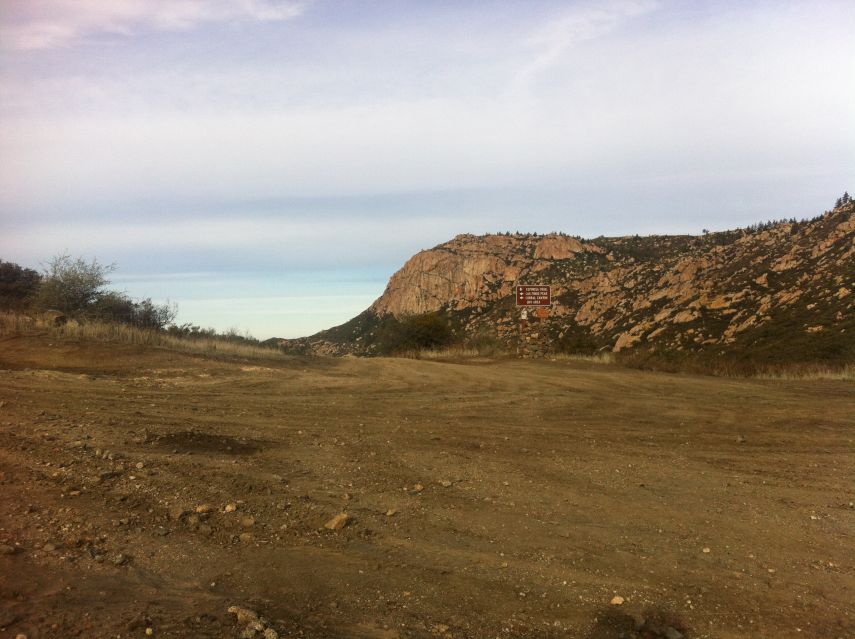 Corte Madera Mountain from the saddle connecting it with Los Piños Mountain.
Hike/Climb
I begin with the 17 pound pack at 7:48 a.m., walking along Kernan Road to the actual trail at (32.74013° N, 116.56348° W) after roughly one half mile. Shortly I reach the saddle with road junction at (32.74752° N, 116.57539° W) where I have a lengthy cell phone conversation with mother. It's perhaps 10 or 15 minutes before I proceed... Here one may either hike a circuitous dirt road or take the direct summit path under a series of telephone poles. The latter route has a junction at (32.74080° N, 116.57792° W) with the former, main road. Noting this, I decide on the efficient "pole line road" (really just a delapidated path) until said junction. Then I'll take the main road, boring though it be. (The telephone pole path does not appear on the topographic chart. However it does appear on this satellite image centered on the cited junction.) I reach the fenced summit compound at 9:02 a.m. Although the elapsed time from my car was 1 hour 14 minutes, the actual travel time was roughly one hour owing to a clothing change break half a mile before the saddle and that lengthy phone call with my mother. I survey the area and conclude that a boulder inside the (inaccessible) summit compound is highest. I raise an arm along the fence perimeter such that some part of my body is higher - invoking the "Rule of Edward" to receive summit credit.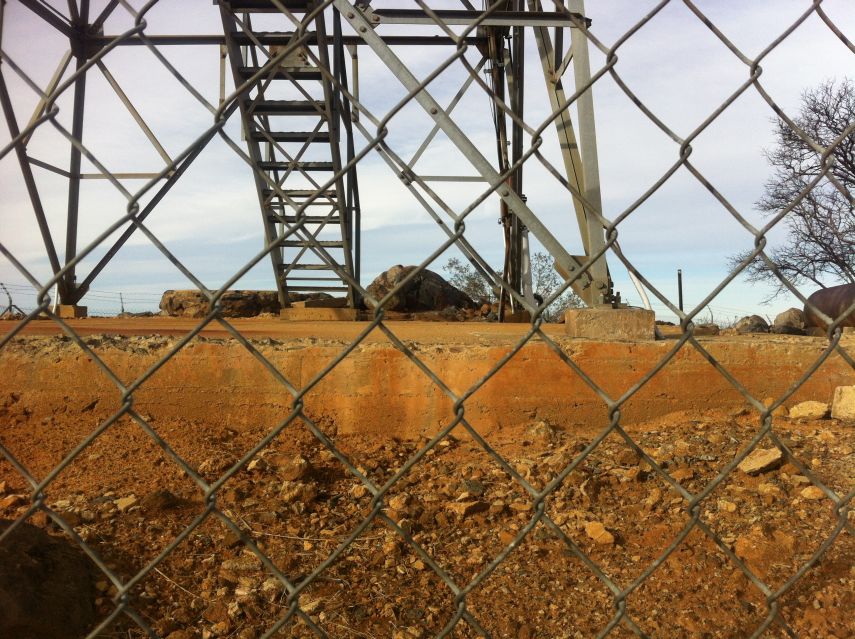 The highest natural ground is currently inaccessible.

Quite tired from yet another poor night's sleep (or rather lack thereof) I find a shaded area with leaves on the ground, rather than dirt, and lie down on my pack to nap. When I arise some 12 or 20 minutes later I am greeted by the northern vista featured at this report's bottom.

The "pole line road" is taken for my descent. It's somewhat steep for the first hundred vertical feet, whence the gradient normalizes. Difficult to follow at-times, eventually I reach the aforementioned junction - and then take the dirt (muddy?) summit road back to my saddle. Why use the longer route? Simple: I can claim to have made a Figure 8 path from saddle to summit to saddle. I do business behind some bushes, aided with a rock for want of toilet paper. Descent to the automobile is boring yet rapid, returning in 3 hours 9 minutes elapsed time car-to-car. The actual travel time is likely just over 2 hours for the estimated 6 mile round trip distance. Unlike my recent Thanksgiving climbing, this time I have taken no medicine of any sort to protect against the pain or numbness from sciatica. Yet I experienced no symptoms whatsoever - which is great news on this road to full recovery.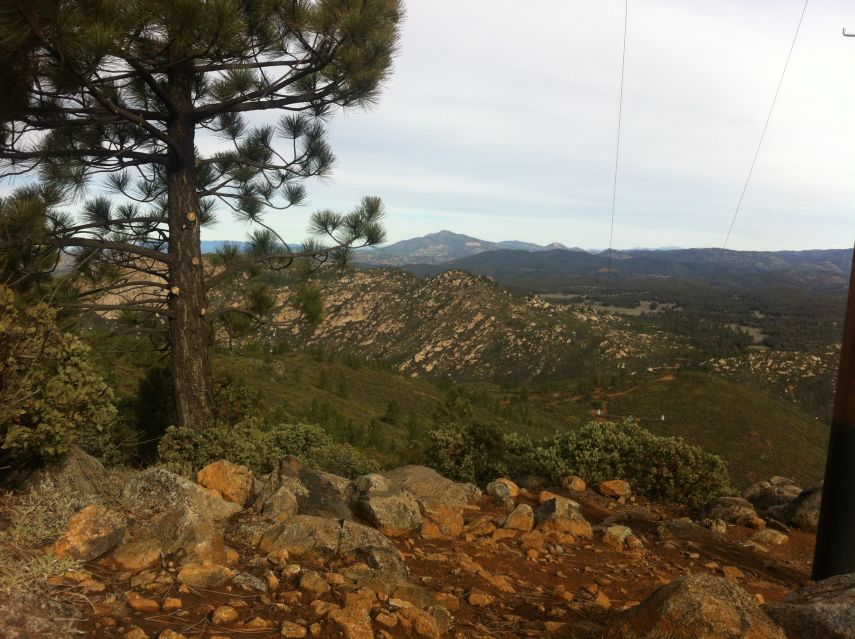 View north upon arising from my summit siesta.