Northern Rockies August 2008 Trip Report
© September 2008 Adam Helman
(Click on any image for enlargement.)
Background
Examination of my end-2007 county highpoints completion map confirms that my long-term goal of completing the eleven western USA state's county highpoints really is feasible. After all, of the 414 counties in that region, by the end of July I only have 52 counties remaining - roughly one-eighth of the total. Gasoline prices suggest that after a three week July journey that I leave my pickup truck in Billings, Montana; fly home for several days; and retrieve it for a three week August highpointing trip. This plan saves 100 gallons of fuel and roughly 15% of my annual carbon footprint. In obviating a second round-trip from southern California, this plan also saves four days of simply driving. In this report I describe the three week August trip. My three week July trip is described here. As with that July trip I concentrate on Montana and some Idaho county highpoints.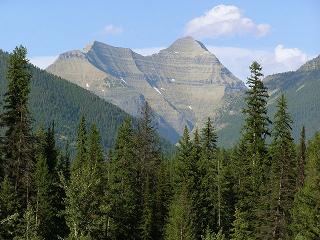 Mount Stimson is the Flathead County, Montana highpoint
in Glacier National Park. Here it seen from U.S. Route 2 to the southwest.
Trip Details
Friday, August 1 - return to Billings There is a very early start to day, arising at 3:40 a.m. for a 4:15 a.m. shuttle ride to the airport. My flights to and from Salt Lake City are uneventful; and I locate the pickup truck without problem. It is gratifying to see it with all my stuff inside. It is hot in Billings. I purchase food at Wal-Mart, have a piece of spice cake with iced mocha; and head west on Interstate 90 some eighty miles to meet Jim Perkins in Big Timber, Montana. Jim and I enjoy a filling meal at the Country Skillet. There's a cheese omelet, biscuit with sausage gravy, pancakes, and coconut cream pie. It's quite a bit - and Jim treats me by using his business account (I trust his employer does not read this). We drive to the campground near Crazy Peak. Soon afterwards there is a slight drizzle at 6 p.m. Apart from that event there is decent weather. I finish an entire package of fresh strawberries before retiring. They would have been more appetizing were the weather to have remained hot. As-is they must be eaten anyway since otherwise they'll go bad quickly without refrigeration. Dee-licious.
| | |
| --- | --- |
| | |
| Crazy Mountains from the east | Adam atop Crazy Peak |
Saturday, August 2 - Crazy Peak (ultra prominence summit) We climb Crazy Peak today, the most prominent peak in all Montana. Remarkably, Crazy Peak is not a county highpoint. After the on-trail hike to the obvious lakes we scan the terrain and select our climbing route. Once on this steep talus and scree slope I ponder the sanity of our adventure. Suddenly a 500+ pound boulder comes loose in my very hands. It is a close call.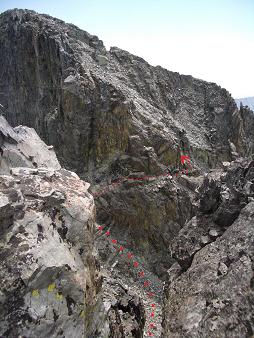 The indicated route is Class 2.
(Mouse-click to see clearly.)

We gain the main, east-west ridge and find it to be pinnacled for much of the way. Jim suggests that we descend the ridge on its south side; and this we do only to find the going even worse. Big mistake with some Class 4 moves. We regain the ridge and find a use trail along the very crest and to its immediate left (north). Finally we arrive at the well-known false summit and spy the crux - a downclimb through a steep, narrow chute followed by an obvious pinnacle that blocks access to the true summit. We most carefully downclimb the chute and then discover a Class 2 route which bypasses the difficulties described by others for this route. Here, one maneuvers as shown by the arrow in the photograph to the right (south), contouring around the bottom face of the pinnacle. After rounding its southern flank, counterclockwise, the going is on steep yet managable talus to the true summit. The net elevation gain is 4,700 feet; the total elevation gain 5,100 feet due to a 150 foot descent prior to the campsite lakes; and the 50 foot descent in the chute near the crux area. We take 11 hours. Later we caravan to Columbus, and camp free at Itch-Kep-Kee park - arriving one hour before sundown. Sunday, August 3 and Monday, August 4 - Mount Wood (Stillwater County, Montana) Jim Perkins and I climb Mount Wood over two days. Details are described in this trip report. Mount Wood is a moderately difficult two day challenge - or an extremely long single day. Any peak in the Beartooth Range will be worthy of one's effort.
The Mount Wood trailhead. From viewer's left:
Adam Helman, Ward Thurman, and his son.
Our 10,500 foot camp on the Stillwater Plateau.
(Ward Thurman photograph)
Tuesday, August 5 - retreat to motel room Having slept no sooner than 3 a.m. I don't really care to do anything today. Finally around 8 a.m. I arise, reorganize gear (a major chore after backpacking), and drive west then north to Harlowton. There I check-in to a room and sleep at 1 p.m. for three hours. A lazy day indeed. I arise at around 4 p.m., purchase fresh food at the nearby market, and basically lives a cat's life until my normal highpointing trip bedtime of roughly 9 p.m. At home I sleep anywhere from midnight onwards. Such a plan would fail while traveling since it does not leverage daylight.
Mount Wood in early morning light
(Ward Thurman photograph)
Mount Wood panorama
(Ward Thurman photograph)
Wednesday, August 6 - "Cinnamon Peak South" (Wheatland County, Montana) This is a simple highpoint for western counties. The rancher is cooperative. It is also a beautiful, nearly cloudless day. By 2 p.m. I drive to Great Falls. I get a haircut to alleviate some of the heat. Later I sleep at Wal-Mart, indeed, for third time this season at the same establishment.
The traverse from Dawson Pass to
Cut Bank Pass is very windy.
(Mount Stimson climb)
camp the first night at Upper Nyack
(Mount Stimson climb)
Thursday, August 7 - Great Falls again I visit the Maelstrom Air Force Base Museum. There are some really nice aircraft on static display, such as the C-97 transport, an F-94 fighter jet, and a Minuteman ICBM. Indoors there are plenty of educational exhibits dealing with the base's role in various conflicts from the Second World War onwards. After a filling lunch at a convenience store I drive northwest on US Route 89 through Choteau and then to the trailhead for climbing Rocky Mountain the next day. I arrive about 4 p.m. and spend a leisurely few hours lying around, in and outside the camper shell. I even get some reading done from a chemistry journal.
Adam during the bushwhack from high camp
seems none too happy.
(Mount Stimson climb)
A log provides brief relief during
the bushwhack - yet requires balance.
(Mount Stimson climb)
Friday, August 8 - Rocky Mountain (Teton County) Today I climb Rocky Mountain of Teton County. Details are described in this trip report. The climb being concluded mid-day, I drive north again, pass through Browning, and enter Glacier National Park at Two Medicine. The intention is to investigate camping opportunities on behalf of the entire five person climbing party for Mount Stimson. The campground is full at Two Medicine, and I sleep at a pullout 2.1 miles along the Two Medicine approach road from its junction with MT-47, in turn six road miles north of East Glacier the community.
View northeast from the
Mount Stimson high camp.
Note the U-shaped terrain that
hallmarks glacial activity.
Tinkham Mountain from high camp.
Note the multiple avalanche paths.
Saturday, August 9 - Browning, Montana I relay the campground information by cell phone to Bob Bolton as he, Duane Gilliland and Greg Slayden speed east from Washington. Based on this information they take rooms tonight at a hostel in East Glacier. Today I explore Browning on the Flathead Reservation. Plenty of food is eaten in preparation for a five day backpack to climb Mount Stimson from the east. My feast starts with a pint of licorice ice cream, and continues all day with "stops" at barbecue chicken (one pound) and chocolate cream pie. The licorice is particularly good with chocolate goodies mixed-in. By 6 p.m. I am napping (in my truck) on a side street in East Glacier anticipating everybody's arrival. I first find Edward Earl, and then the balance of the Mount Stimson crew. We eat supper together in East Glacier. I have a salad only since, after some 4,500 Calories, I literally cannot stomach something like ribs and potatoes. I sleep at the same pullout as last night, everyone else being at the hostel.
Adam Helman at the
Mount Stimson high camp.
(Bob Bolton photograph)
Duane Gilliland approaches
the col in-between Mount Pinchot
and Mount Stimson.
Sunday, August 10 through Thursday, August 14 - Mount Stimson (Flathead County) This is a mammoth effort on what appears to be a completely new climbing route.
Greg Slayden provides this excellent, detailed trip report. The following statistics apply -
41 hours actual hiking duration;
42 miles total distance;
12,700+ feet of elevation gain
The five of us are most pleased with climbing this Flathead County highpoint. Mount Stimson is also the 100th most prominent peak in the contiguous states; and is on the APEX list of toughest county highpoints in that region. Most would state that Mount Stimson is the hardest Montana county highpoint - bar none. Climbing Mount Stimson by a new route makes this a most noteworthy effort.
The Mount Stimson climbing route
progressively steepens up the indicated ridge.
Also note the tortuous cliff band passage
prior to gaining the indicated saddle.
(Mouse-click for a clearer view.)
Bob Bolton at the summit.

Friday, August 15 - rest day I tag along others in Browning and East Glacier (the town) as they wait one day before re-entering Glacier National Park to climb Mount Cleveland. The day is earned because we never used a bad weather day figured into the original itinerary. There is a nice dinner starting with an orange float (remember to "eat dessert first"). There follows a delicious salad, a gourmet burger with bacon, sauteed onions and ranch dressing; and chocolate mint pie for dessert.

A lot of folks cannot fathom how I can eat so much and yet be so skinny. I tell them I eat less at home ... and it is true. I also have an extremely high metabolism, and cannot sit still. I am fidgety. All of these factors contribute to a seeming disparity between my appearance and level of food intake.

Furthermore, I for one am mentally prepared to eat a lot at restaurants since the portions are generally larger than one would enjoy at home. Given the above I have no problem ordering an orange float as appetizer. Remarkably, in foreign countries I have found the portions to be more normal in size and thus aligned with actual physiological need. Last night Edward and I slept at that hostel. We were justifiably tired, and so simply plopped down on the bed without changing clothes. Thereby I am barred from the hostel tonight, having not used the bedding the previous night. Evidently I disregarded some unusual rule that I was never told about. I sleep at the usual pullout, comfortable knowing that my pound of (free) blue cheese from the hostel's communal refrigerator ("take me") would be enjoyed a zillion ways over the next month. Saturday, August 16 - to Idaho; Illinois Peak (Shoshone County, Idaho) I drive into Idaho and decide to climb this afternoon to give me something productive rather than wait until the next morning. The hike up Illinois Peak is short and sweet. Details of this effort are described in this trip report. I return down the forest road and stop for the night at a broad pullout 3 miles from Superior, Montana - intentionally just within cell range. I could have gotten to the next county venue via Missoula, or taken a bumpy yet shorter shortcut. I did not want to drive until 10 p.m.

Sunday, August 17 - Missoula and back to Idaho

Today I must go through Missoula to access US Route 12 for the next Idaho highpoint. I take my time, visiting the Southgate Mall with Oil and Vinegar yet again just as during the July trip. A prescribed burn is starting very close to my highpoint; and I visit the Powell Ranger Station today, a Sunday, to learn that I can legally drive the forest road as planned. I begin a thankless 2+ hour drive up to the summit of Blacklead Mountain, my camping spot for the next day's county highpoint. Atop Blacklead Mountain the temperature is made tolerable by smoke blocking the sun to my southwest - and allowing me to eat supper before sundown. If this rational explanation were not available, in another time or place some would call the reddish daytime sun a "miracle".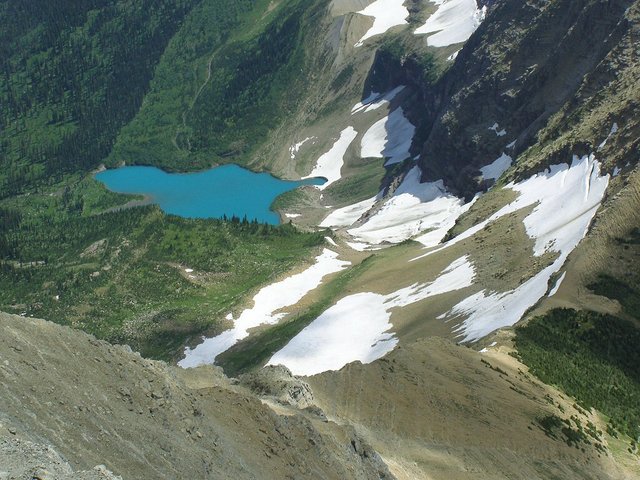 A view of the ridge that we must downclimb
from Mount Stimson's summit. This lake's color captivates us while high on Mount Stimson.
(Bob Bolton photograph)

Monday, August 18 - Rhodes Peak (Clearwater County, Idaho) Today I climb Rhodes Peak. Details of my effort are described in this trip report. In that report one finds a remarkable situation wherein a helicopter lands right next to my pickup truck - and I see this miles away across a valley while returning from the summit. To learn the "why" and "wherefore" you'll have to read my report. This evening I sleep at Wal-Mart between Lolo and Missoula. This is a different Wal-Mart from the one in central Missoula - and where I stayed earlier this summer. Tuesday, August 19 - rest day By 9 a.m. I enjoy a pint of ice cream at Target - pear caramel with a bit of cinnamon. Wonderful. I drive south on US Route 93, and arrive at the Trapper Peak trailhead by 4 p.m. Nobody else is here, and I have a lazy day's remainder until sunset and bed.
The steep and dangerous northwest
face of Mount Pinchot.
From viewer's left - Greg Slayden,
Duane Gilliland, Adam Helman, Edward Earl.
Wednesday, August 20 - Trapper Peak (Ravalli County, Montana); decision point Details of my hike to Trapper Peak are described in this trip report.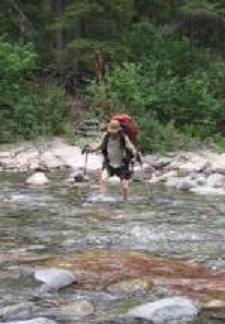 Adam crosses Nyack Creek
during the descent from
Mount Stimson high camp.

I return to Darby, Montana for refreshments - a barbecue pork sandwich and hot chocolate. The weather is inclement, and, in addition, I learn that the current storm should bring snow to the higher peaks. That's bad news for tomorrow. I drive to the trailhead for unnamed 9439, the Idaho County, Idaho highpoint. It rains on-and-off as I nap in the camper shell. I decide the odds are against me given the forecast. I walk all of 15 or 20 feet up-trail and turn back without the intention of continuing - so allowing me to paint "pink" (or "light red"?) on my completion map to make it look more interesting than the rather monolithic green and yellow that it generally contains. To use the afternoon effectively I drive south four hours on US Route 93 to do Diamond Peak the next day instead. The weather is fair on arrival.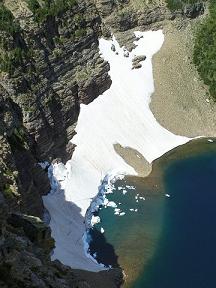 Snow bergs far below the Pitamakan Trail
on the fifth, final day of Mount Stimson.

I rush to drive six miles on the approach road during waning light. Cows are heard in the distance on arrival to my campsite - one that is forced upon me as I cannot see the minor dirt tracks lying beyond. I eat heated macaroni and cheese with beef from a pint can by complete darkness. Then I sleep right away as it is already 10 p.m. Thursday, August 21 - Diamond Peak (Butte County, Idaho); Pocatello I climb Diamond Peak, the highpoint of Butte County and ultra prominence summit. Details of the climb are described in this trip report. It is a bit daunting to negotiate cliff bands completely alone on the upper 1,200 feet. However they prove no real challenge upon finding the wealth of foot and hand placements. Diamond Peak completes both my summer's climbing and my goal of securing at least 50 of the 57 contiguous USA ultra summits by year's end. Indeed, Diamond is number 51, such that I have only 6 peaks remaining on that list. I drive to Pocatello, and sleep, of course, at a Wal-Mart. Friday, August 22 - drive through Utah; Mesquite, Nevada There's nine hundred road miles to home. Today I drive 510 of them, starting with a Starbuck's "Java Chip Frapuccino" (large size); and stopping at a casino/hotel in Mesquite, Nevada since the afternoon temperature is around 108°F and thus far too hot for car camping. I enjoy one-half bottle of wine with supper in the room - a small celebration of my successes this trip. I pour the remainder down the drain so as to not have a hangover the next morning. "Control is everything." Saturday, August 23 - drive home The drive uneventful, I arrive home around 2 p.m. There are 6336.0 miles on the trip odometer, some 3,700 miles being from the July journey and the balance for August. I had gone around the block on coming home, some 0.5 mile, to secure the precise palindrome that is "6336". Note that room 1221 was rented the final night in Mesquite, Nevada. Reversal to "2112" yields four vertical miles (in feet) after adding a "0"; and this value is exactly one-third of 6336.0 .
Summary
Relative to my original plans, I had replaced Idaho and Elmore Counties in Idaho with Clearwater and Shoshone Counties. This was practical so as to obviate travel for any county highpoints on future journeys to northern Idaho. Furthermore, Elmore County was out-of-the-way based on the road grid; and the Idaho County highpoint was under poor weather. The subjectively hardest Montana county highpoint, Mount Stimson, had been visited using a route that to our collective knowledge nobody had ever tried. The home glob radius map resulting from this trip demonstrates the summer's overall progress. All-told I meet my goal of 44 remaining county highpoints in the western eleven states. Montana has 14 left, having now 42 (three-fourths) of its counties; Idaho has 18 left; and Washington has 12 remaining. Some of the latter are quite difficult - but they are for another summer.

Mount Wood is at left in this panorama from Wilderness Lake.
(Ward Thurman photograph)