Maui and the Big Island of Hawaii
© February 2003 Adam Helman
---
awaii and paradise are synonymous. Sands of Waikiki; water sports; resort hotels where every whim is catered to. This is luxuriating in an artificial Hawaii - one designed by man for profit and without regard for the original, pristine state of the island chain.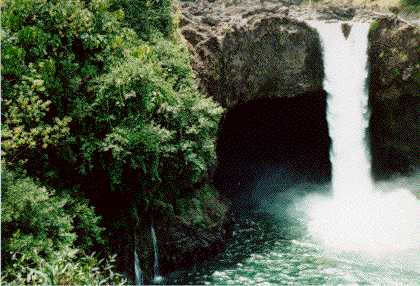 Rainbow Falls near Hilo on the Big Island.
To experience the raw beauty of Hawaii requires careful planning, and a taste for adventure. You dig deeply to explore its backcountry roads and marvel at the works of volcanism and other geologic processes which have given birth to Hawaii and have shaped its every feature since.
Hawaii was borne of fire; is shaped by rain and wind; and shall remain a vital reminder of how Nature can both create and destroy with a power and ferocity unattainable on the human scale.
I explored the "natural" aspects of Maui and the Big Island of Hawaii - hereafter as "Big Island". As an avid hiker and mountain climber, I gave priority to ascending the big volcanoes of Haleakala on Maui and Mauna Loa on Big Island.
---