The Venezuelan Andes
© February 2004 Adam Helman
---
n a heavily pinnacled ridge we stood, mere steps from the loftiest point in hundreds of miles. Poised to consummate yet another climbing goal - one that had brought us three to this most northeasterly offshoot of the mighty Andes cordillera.

Why Pico Bolivar? Because it has large vertical relief - something we refer to as prominence. In fact, some thirteen thousand feet of it by our reckoning.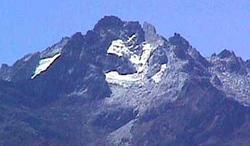 The north face of Pico Bolivar.
We traveled to Venezuela just because that nation's highest mountain poses a high altitude technical climbing challenge, with considerable prominence in both the lay sense and in a well-defined technical sense.
After traveling so far, why not climb Venezuela's second highest as well?
The goals were well-defined, our motives pure. Climb Pico Bolivar (16,427 feet) and Pico Humboldt (16,214 feet). All else was secondary. Bob Packard, Edward Earl and I cannot claim to have toured Venezuela in the manner a well-intentioned tourist might. We only saw the mountains and their principal city, Mérida - the summation of our Venezuela experience.
Surmounting Bolivar's summit ridge, Earth's opposite face was revealed - a spectacle so grand, cold, hunger, and fatigue were all relegated to some emotional backburner.
Would I not rather lounge at some beach, lapping up blue Caribbean waters? The story speaks for me. Read it and learn my thoughts.
---
| | |
| --- | --- |
| &nbsp Table of Contents | &nbsp External Hyperlinks |
| &nbsp * * * * * * * * * * | &nbsp * * * * * * * * * * * * |
| | |
| | |
| | |
| | |
| | |
| | |
| | |
| | |
| | |
| | |
| | |
| | |
| | |